CTC Software
Friends signaled track is monitored by computer software that provides a protypical CTC display interface. This interface is displayed as a webpage on the computer in the Central Station Signal Tower. The below link provides a real-time view of the CTC display.
Real-Time CTC Status
Raw view of Modelboard - Requires Microsoft IE
The configuration of tracks and signals is called a modelboard. The tracks are represented by broad lines. Gray indicates that the track is vacant. Red indicates that the track is occupied by a train. The line ahead of a train is shown in green to indicate that the train has been authorized to proceed.
The colored circles with white lines extending from them represent signals that can be controlled by the dispatcher. The modelboard signals are only displayed as red or green, which is an indication of whether the train is allowed to pass the signal or not. The actual color displayed to the train's engineer is not depicted.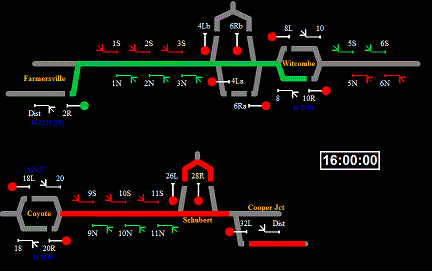 The above example shows that the signal at Farmersville is allowing a train to proceed. The track from Farmersville to Witcombe is displayed as green, indicating that a train has been cleared to proceed over that route. The track from Coyote to Cooper does not yet have the signal circuitry installed yet, so it defaults to occupied track and is displayed in red.
Signals at controlled points such as meet sidings, wyes, and queuing tracks, are given even numbers, based on prototypical practices. Odd numbers would be used for motorized turnouts if there were any. The L and R suffixes on the signal numbers are for Left and Right, indicating which direction the signal faces.
The stick figures that look like chicken footprints represent the intermediate signals that are in between meet sidings. These signals are depicted in either red or green to indicate the direction of traffic that is currently established on the track. These symbols follow prototypical standards for diagramming signals. The long line represents the mast of the signal. The "chicken feet" represent the head of the signal and mimic the blade of a semaphore signal. In our case, three semaphore positions are shown, vertical, diagonal, and horizontal, indicating that these signals have green, yellow, and red lamps.
The blue text that appears near signals indicates the last time a train passed the signal.
---